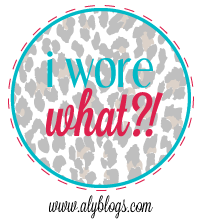 I got my 1st camera when I was 10 years old and thought I needed to take pictures of EVERYTHING- thus, there is no shortage of pictures from that age and up
Let's just say it was hard to narrow it down to only 5
'I Wore What?!' pictures- fashionista I was not
Lets take a walk down memory lane...
1. Why the eff am I only wearing pantyhose on one leg?!
How does that even work???
2. I wish my sister still had those glasses . . .
so I could tease her mercilessly
3. Did I actually leave my house with a bathing suit showing under a baby tee?
I'm so glad I lived in such a large city where no one would have known me . . .
Oh wait . . . Eff my life . . .
(Side note: those are definitely Backstreet Boys posters on my wall and I'm pretty
sure you can see Dream Phone and The Babysitters Club games
on the shelf in our closet. I miss the 90's . . .)
Here I am at 4 years old- with two older cousins to look
up to and to get fashion advice from. . .
Hmmmmph
I wish I still had that kitten shirt . . .
It would go so great with my hot pink bicycle shorts that
I wear for 80's dress up nights. . .
Also, I knew there were reasons I have panic attacks
when I even think about cutting my bangs
1.What was with the belly baring shirts?!
2. Were the Looney Tunes really that popular?
3. How short was that effin skirt???
4. AND SERIOUSLY what is going on with those BANGS!!
And finally . . .
I'd like to be able to say that this was during my college years buuuuut it's more like 6 months old (in my defense, I was only 24 at the time). Too many rounds of beer pong before the bar and all of a sudden it was Halloween in the middle of March. I also snuck that bottle of Cherry Whiskey into the bar in my purse and then played bartender for the rest of the night . . .
Here's to hoping that as the years go by there are fe

wer

and

fewer of
these types of pictures to look back

on
Wait,

w

here's the fun in that?
;)