Now that it's
finally
December it's finally appropriate to showcase my extreme love of all things Christmas. Let's just pretend that my tree hasn't been up since Christmas 2014 and that I took my Christmas cards down from last year...(what can I say, my Christmas spirit lives all year long!)
I didn't post any monthly goals for myself for November, since I took an unintentional break from blogging regularly, but I am back today with some goals for December - my favourite month of all!
In December I want to...
Bake lots of goodies to give to friends and and family
We still haven't settled on a date for Beaver Cove's annual Cookie Swap but I will be starting my holiday baking next week. Can't wait! Now to avoid gaining 10 lbs during the Holidays...
Take photos with Krickit and order Christmas cards
Yes, I'm that person that sends out Christmas cards with my fur baby. Last year half of my cards didn't arrive until after Christmas so I need to get this done asap and get them out! I just love getting and displaying Christmas cards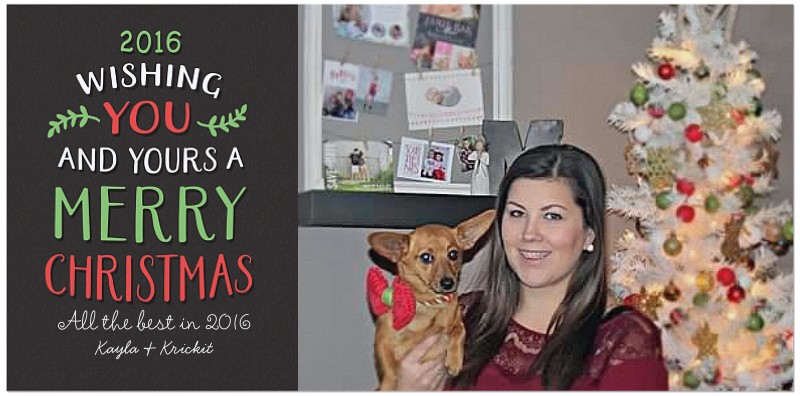 Last years card... that I just now realized says 2016 at the top. Whoooops! Haha
Watch a Christmas movie every night before bed
I love turning off my bedroom lights and only having my Christmas lights and my tree turned on while I watch a Christmas movie in bed - there's nothing better! Okay, add in a cup of hot chocolate or a glass of wine and then it's really perfect
Enjoy all of my favourite Christmas traditions
Playing the Home Alone drinking game, Elf on the Shelf, watching Christopher the Christmas tree on Christmas Eve, Twinkle Tour-ing on Christmas Eve, Mexican and Margarita night during the holidays - I just love all the traditions that come with the Christmas season!

Have all my gifts bought, wrapped, and under the tree by December 16th
Last year I woke up early on Christmas morning to finish wrapping my presents so this year I would really like to make this goal happen. All the gifts I have bought so far are already wrapped so I might actually accomplish it this year - wish me luck!
Hit 10K steps every single day in December
I'm currently doing a Beachbody 21 day challenge so that will definitely help. I don't have huge expectations for myself since it is the Christmas season and that means eating and drinking all the things but I'd just like to keep active to avoid gaining over Christmas and then I can really get to work in the New Year
Watch Home Alone as many times as humanly possible
Not only is Home Alone my favourite Christmas movie but it is also my favourite movie of all time. Period. The end.
Enjoy the Christmas season!
Sometimes the stress and busy-ness of the Holiday season can get to a person but I'm going to try and take time to sit back and relax and just enjoy it!
Coming up in December
So many holiday parties!
Work, Girl's Christmas, Beaver Cove's Cookie Swap - so much to look forward to!
Scooby's birthday festivities (this weekend!)
MN's second visit to the GWN
New Years Eve in Minnesota
and so much more - I can't wait!