It's December, it's December! From December 1st to December 25th I have the biggest to do list- there are SO many fun Christmas-y things to be done and so very little time! From now until the New Year I'll be wearing my 'Merry Christmas Ya Filthy Animal' sweater and my Christmas pajama pants every single night, only watching Christmas movies or Christmas episodes of my favourite tv shows, drinking coffee exclusively out of holiday mugs, and the only music that will play in my SUV will be Christmas music
I thought I lost the Christmas CD that I burnt back in College with all my favourite Christmas songs - which bummed me out so bad - so I bought an itunes card and downloaded a bunch of the songs that I could remember from the CD... Only to find the CD in my laptops disc drive from last Christmas. Whoops! Oh well, now I can listen to it everywhere I go!
My tree is up - all I had to do was move it from the spare bedroom where its been up since last Christmas - but so far that's the extent of my Christmas decorating. I haven't had time to do anything else yet and that makes me super sad. It's on my to do list for this coming weekend though - if I don't get them up soon then I won't have as long as usual to enjoy them and that would make me a super sad panda.
I tried to convince my Mama she needed to put her tree up and get all her decor out (she has SO much Christmas stuff) but she scoffed at me. She usually waits until the second week of December to do her decorating but I think I can wear her down and get her decorating a bit earlier this year. I haven't been able to convince her to put any lights up on the outside of the house at all this year but I'm hoping I can bribe my brother into getting them hung (me and ladders don't mix so I'm out of the equation)
There is still hardly any snow on the ground and the temperatures haven't dipped too much yet which is SO weird for this time of year that it almost doesn't seem quite real that today is December 1st. It got a little more real for me that Christmas was coming soon when I had to do some holiday baking for a bake sale for work last week and then when I attended the EFC's Tree Auction on Friday night. Seeing all the Christmas trees and wreaths reminded me that Christmas is coming even if it doesn't seem like it when I look outside.
My nieces have gotten into Home Alone lately which I LOVE. My dad watched the girls while Toni, Mama, and I went to the Tree Auction and they watched Home Alone twice in a row because Graycie insisted. I love it so much. I don't think there's a time that I turn on the TV and its not playing on some channel. If we're Snapchat friends you would have seen that I currently own five copies of Home Alone...
But enough about how I'm crazy for Christmas - I've got some exciting news (exciting to me anyways) - I am committing to posting every weekday in December! Crazy, I know, considering I haven't been very consistent lately. I just have SO much to write about this time of year so I'm challening myself. There may even be a few drunken vlogs. So stay tuned!
Oh and I decided that I don't care if my Mama thinks I'm crazy - Krickit and I are sending Christmas Cards this year! Send me your address (if I don't already have it) if you want one! The one below is just a preview - there were so many great designs to choose from that I ordered a variety. Shutterfly had such good deals I couldn't pass it up!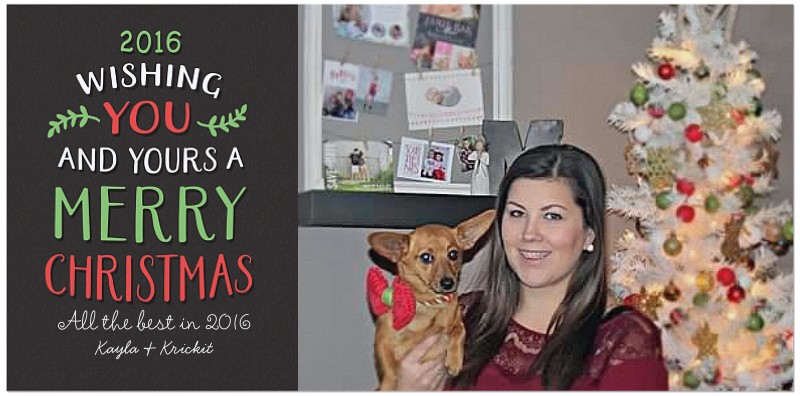 Have you gotten around to your Christmas decorating yet? What's your FAVOURITE Christmas song (I need some new ones to check out!)