5 sleeps 'til Christmas and there is still SO much to be done! I'm definitely more ahead of schedule than most years but I feel like there is so much I need to fit in this week to really feel like I made the most of this holiday season.
My tree is up, most of my decor is up (I scaled back a bit this year because last year it looked like Christmas exploded in my spare bedroom until at least May...), and I am *almost* done all of my Christmas baking. I've made around 200 tasty treats so far but I still have about 100 to go before I can start assembling and delivering baking trays so that it's out of my house and I'm not as tempted to eat it all.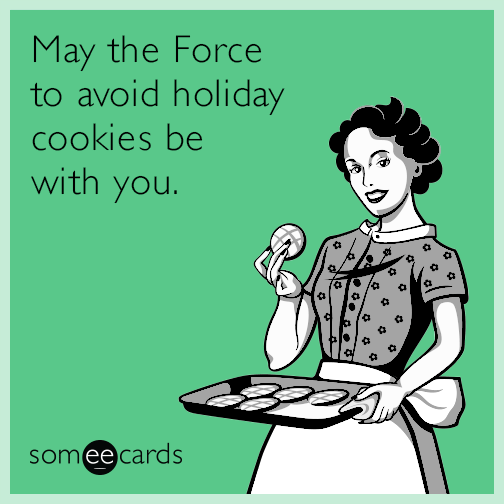 I have a few more presents to wrap and a few more small things to buy (nothing like leaving things 'til the last minute) and I'm running out of hours in the day to get everything done. I do have all day on Christmas Eve since its on Saturday and I don't work but I'd really like to have that day to just relax and enjoy Christmas!
I've been watching Christmas movies every chance I get - I have them on in the background while getting ready for work, cleaning up, wrapping presents, and as I go to bed at night. So far I've watched Home Alone and Home Alone 2 about five times each, have seen Serendipity a couple of times, Christmas Vacation at least three times, Elf once, and at least three terribly cheesy Hallmark Christmas movies. I still have to fit in a bunch more - something I'm more than happy to do!
I've been listening to Christmas music all day long, using only Christmas mugs when I drink my coffee, and I've been eating one of these festive donuts every other day it seems. I just cant help myself - I love this time of year so much!
Every year I get together with high school friends (and a few new-er additions to the mix) for a
Christmas potluck. This was our 'Wine Club' Christmas Party last year that I hosted at my parents house.
This year we couldn't set a date that worked for everyone - this is the hardest month to schedule anything- so it ended up being a Christmas get together at my sisters new house last Friday with myself, my sister, my nieces, Jayden -our friend of 25+years- and her boyfriend and son, and Jayden's brother, his girlfriend, and their daughter. There was SO much food and it was nice to get together with them and catch up - it seems like we only see them in the Summer during camping season now. Why is life so busy?!
Now to get ready for working two jobs today. Nothing like working a second job in the retail industry during the Christmas Season...